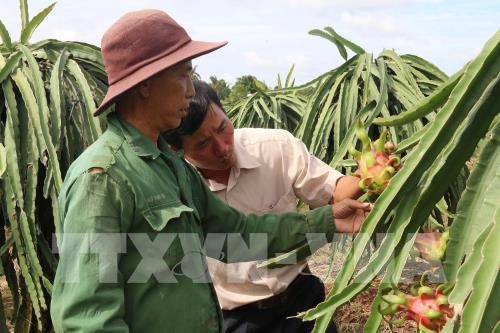 Farmers grow dragon fruit in Bình Thuận. The province is consistently increasing the area under the fruit grown to VietGAP standards.
In Bình Thuận Province, the country's largest dragon fruit producer, more than 10,000ha of the fruit are being grown to Vietnamese good agricultural practice (VietGAP) standards, 500ha more than last year, according to the Dragon Fruit Research and Development Centre.
The area accounts for 30 per cent of the province's total dragon fruit growing area.
Nearly 10,000 households are involved, having established nearly 450 groups, farms and co-operatives.
Phạm Hữu Thủ, head of the province's Department of Agriculture and Rural Development's Office, said growing the fruit to VietGAP standards enabled farmers to apply advanced farming techniques to ensure hygienic production and add value.
"It is also gentler on the environment by reducing the use of plant protection chemicals," he said.
Dragon fruit is among the province's key products and fetches a lot of export revenues.
Since 2009 a province programme to grow the fruit to VietGAP standards has helped change traditional farming habits and encouraged local farmers to use advanced farming techniques.
In the past VietGAP-quality dragon fruits did not fetch a big premium, and so not many of them had been keen on the programme, according to farmers.
To attain VietGAP standards, farmers have to strictly comply with regulations related to hygiene, maintain a diary about their farming processes and use of plant protection chemicals.
Recently many farmers have begun to embrace VietGAP after seeing the prices of normal dragon fruits decline and farmers struggle to sell them even as those who grew to VietGAP standards faced no such issues.
In Hàm Thuận Nam District, farmers grow VietGAP-quality dragon fruit on 5,200ha, the largest area in the province and, according to Nguyễn Văn Phúc, head of the district's Agriculture and Rural Development Division, accounting for 40 per cent of the total area under the fruit.
Many local farmers have developed linkages down the line up to the consumption stage to ensure they can sell their fruits, he said.
To expand the area of VietGAP-quality orchards, the Department of Agriculture and Rural Development has said it will collaborate with districts to propagate to farmers the importance of growing clean crops.
It will also work with relevant agencies to identify more buyers for VietGAP-quality dragon fruits.
This is expected to encourage more companies to tie up with co-operatives, thus building value chains for the fruit.
Individuals and organisations growing and buying VietGAP-quality dragon fruit will be given priority in trade promotion activities, according to the department.
Bình Thuận has an annual output of the fruit of around 600,000 tonnes.
Its export markets include China, the US, the EU, Australia, and Japan.
Source: https://vietnamnews.vn/society/481912/binh-thuan-expands-area-under-vietgap-quality-dragon-fruit.html#S0feXpYIXzcmGZul.97