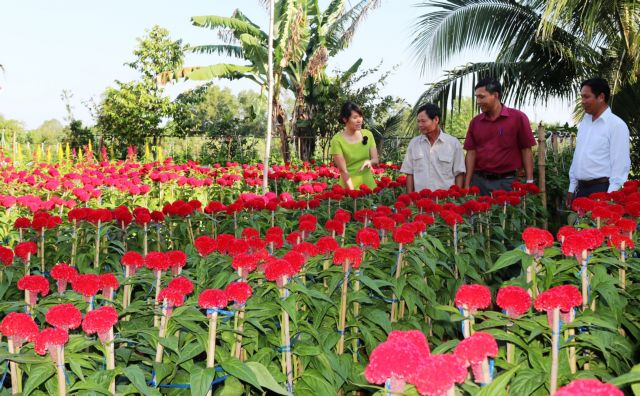 A flower garden belonging to the Phó Thọ Flower and Ornamental Plant Co-operative in Bình Thủy District, Cần Thơ City.
Agricultural co-operatives in the Mekong Delta are growing larger in terms of number of members and farming areas, and capital size, Deputy Prime Minister Vương Đình Huệ has said.
Speaking at a seminar in Đồng Tháp Province on Tuesday, he said the operation of agricultural co-operatives is more efficient in the delta than elsewhere.
The region had 1,803 co-operatives at the end of 2018, or 13 per cent of the country's total number, according to the Ministry of Agriculture and Rural Development.
In 2017-18 there were 552 new co-operatives in the delta with 230,000 members.
The region is the country's largest rice, fruit and seafood producer.
Many agricultural co-operatives here have collaborated with companies to set up value chains for their products.
In Tiền Giang Province, for instance, they grow Tân Lập pineapples, Ngũ Hiệp durians, Cái Bè mangoes, and Chợ Gạo dragon fruits to Vietnamese and global good agricultural practice standards and have tied up with companies to guarantee outlets for their products and incomes for members.
Many in Sóc Trăng, Bạc Liêu, Cà Mau, and Kiên Giang provinces have instructed their members to switch from two rice crops a year to one rice and shrimp crop each on the same rice field. The model offers farmers an income of VNĐ52.2 million (US$2,240) per hectare per year while rice alone fetches only VNĐ39.2 million ($1,258).
Deputy Minister of Agriculture and Rural Development Trần Thanh Nam said more and more co-operatives are adopting advanced farming models like VietGAP and GlobalGAP to adapt to climate change.
They also use agricultural by-products such as straw and rice husk to produce other high-value products, he added.
But participants said many of the co-operatives in the delta are small, inefficient and fail to meet market demand, adding that the Government's investment in agricultural co-operatives, especially for infrastructure, is low.
Lê Đức Thịnh, head of the agriculture ministry's economic co-operation and rural development department, said extreme weather, flooding, saltwater intrusion, lack of water for irrigation and household use, and coastal erosion are the result of climate change in the delta.
In this context, household-based agricultural production faces difficulties. Therefore, the delta needs co-operative production and value chains created by co-operatives to increase output, he said.
Lê Minh Hoan, Secretary of the Đồng Tháp Province's Party Committee, said to develop sustainably and adapt to climate change, the delta should restructure and rezone its agriculture to suit conditions in different places.
It should set up value chains for its agricultural produce, he said.
The community's awareness of using water resources sustainably to adapt to climate change should be enhanced, he added.
Huệ said MARD and other relevant ministries should effectively implement policies to enhance the efficiency of the delta's agricultural co-operatives in the context of climate change and international integration.
They should have policies to support the processing and consumption of farm products, train managers and invest in infrastructure for agricultural co-operatives, he said.
Source: http://vietnamnews.vn/society/518823/mekong-delta-farming-co-operatives-growing-larger-efficient-deputy-pm.html#7qJdA77GGuWDbZ5f.99