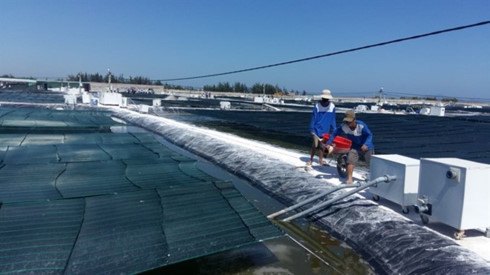 The central province of Quang Nam has introduced the first hi-tech shrimp farming projects in Thang Binh district's coastal Binh Hai commune on 6.5 hectares with a total investment of 33 billion VND (1.5 million USD).
It is the first shrimp farm in the country to apply a non-use chemical-based antibiotic and water filtration recirculation system, said QNTek Joint-Stock Company's technology director Tran Ba Cuong John.
He said garlic and other natural antibiotic agents were mixed into food to prevent the whiteleg shrimp from becoming infected.
Cuong said the farm also applied nano-tech in its water treatment process.
The project was designed to produce 9 tonnes of shrimp from each 1,000sq.m pool in the first stage of investment.
According to Quang Nam provincial People's Committee, the project will act as an example of hi-tech aquaculture development before the practices are spread throughout the province.
The committee said Japan and the Republic of Korea would be two key export markets for the province's whiteleg shrimp in 2019.
Quang Nam has developed 1,750ha of aquaculture, 1,350ha of which is used for whiteleg shrimp farming with an average productivity of 4.5 tonnes of shrimp per hectare and a revenue of 202 million VND (8,900 USD) for each hectare.
Earlier this year, the province also approved hi-tech farming and agriculture park projects in Thang Binh district and the township of Dien Ban on 425 hectares of land with planned investment totalling 5.4 trillion VND (239 million USD) by 2024.
Two investors – Truong Hai Joint Stock Company and Hoang Anh Gia Lai – have agreed to a joint-venture agroforestry project with an investment of 13.8 trillion VND (611 million USD) in the province.
The province has 857,628ha of protected forest and farm land – 82 percent of the province's area – 115,000ha of which is reserved for agricultural production.
According to the latest report, the export value of agricultural, forestry and fishery products was estimated at about 40 billion USD in 2018.
Source: https://english.vov.vn/economy/quang-nam-province-debuts-nanotech-shrimp-farms-392248.vov