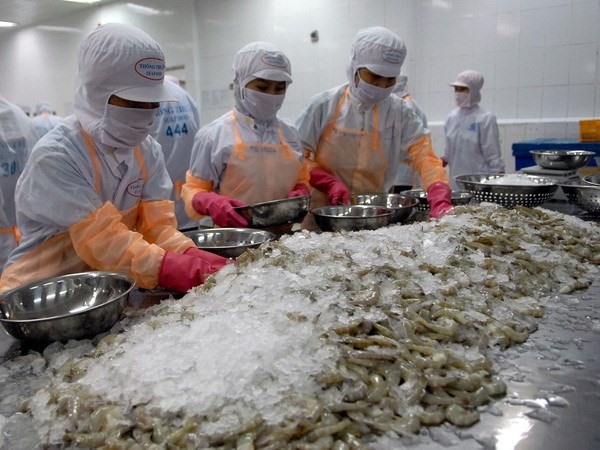 Whiteleg shrimp continue to make up most of Việt Nam's exported shrimp products. — VNA/VNS Photo Danh Lam
Việt Nam's shrimp exports are expected to grow this year to a value of more than US$4 billion thanks to free trade agreements, said the Vietnam Association of Seafood Exporters and Producers (VASEP).
VASEP said the shrimp sector would make a breakthrough in exporting to 28 European Union countries – enjoying low import tariffs once the EU-Việt Nam Free Trade Agreement takes effect – for an estimated export value of $1 billion.
According to VASEP, 2018 ended with shrimp exports failing to meet the business targets. They reached $3.55 billion, down 7.8 per cent from the previous year.
The shrimp industry targeted to gain an export value of US$4.8 billion in 2018 due to the many advantages of exports promotion. These advantages from existing mechanism and policies include a programme on sustainable development of the fisheries economy during 2016-20.
However, shrimp demand of large markets such as the US and Canada decreased due to weather and high inventory volume in Japan, South Korea and the EU. Domestic prices in the second quarter fell by between 20 and 30 per cent, affecting the local market and export value.
At the end of last year, world shrimp prices fell. The supply from shrimp-producing countries such as India, Thailand and Indonesia increased, while inventory in the US was high, meaning Việt Nam could not boost exports to this market.
Inventories in India, Ecuador and Indonesia also increased after China tightened the export of shrimp via informal cross-border gates.
In 2018, Việt Nam's shrimp exports to its four main markets declined from the previous year. The value of exports to China dropped by 28 per cent; Japan fell by 9.2 per cent. Exports to the EU and the US were down by 2.8 per cent and 3.3 per cent, respectively. The exports to South Korea and Canada saw slight increases of 1 per cent and 3.5 per cent, respectively.
The EU was still the largest market for exported Vietnamese shrimp, accounting for 23.6 per cent of exports with a value of $838.3 million.
Whiteleg shrimp continued to occupy a key position in the market, accounting for 68.7 per cent of shrimp exports, while tiger shrimp accounted for 23 per cent and other types of shrimp 8.3 per cent. — VNS
Source: https://vietnamnews.vn/economy/484436/shrimp-export-expected-to-top-4-billion.html#1TFUCowM4fY76ZzC.97