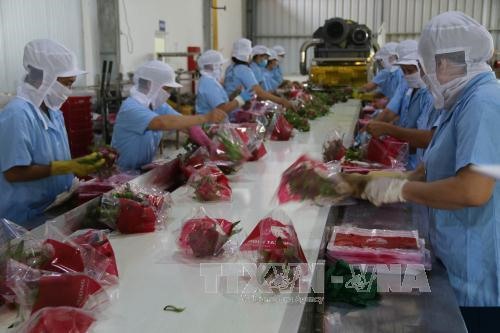 Workers pack dragon fruit for export. — Photo VNA
Many agricultural export companies have resumed work even before the end of Tết (Lunar New Year).
Vina T&T Group's two processing plants in Chợ Gạo and Cai Lậy districts in the southern province of Tiền Giang began preparations on Friday to ship 23 containers of longan, dragon fruit and coconut to the US.
Sixteen containers of dragon fruit, each weighing 900kg, will be sent by air. The rest of the consignment, 36 tonnes of longan, 22 tonnes of dragon fruit and 50,000 fresh coconuts, will travel by sea.
Nguyễn Đình Tùng, general director of the company, told Sài Gòn Giải Phóng (Liberated Sài Gòn) newspaper: "In fruit exports, transportation is very important, especially for preservation. Workers must work very early to ensure best quality of exported fruits."
Lavifood recently opened a fruit and vegetable processing factory in Tây Ninh Province and signed contracts to export frozen fruits like mango, dragon fruit and papaya to South Korea at the beginning of the Lunar New Year.
"Our factory can process 60,000 tonnes of fruits and vegetables a year," Đinh Hùng Dũng, its deputy director, said.
"With technology meeting the US's Lead Silver standard, our processed fruits and vegetables can retain their freshness and nutrition longer to create higher value and safety."
On Wednesday, the Việt Nam Fruit and Vegetable Association sent a delegation to the German Fruit and Vegetable Fair to explore opportunities, and many German companies have expressed interest.
According to the association, exports of fruits and vegetables were worth US$3.8 billion last year and are expected to reach $4 billion this year and $5 billion in 2020.
China is the biggest customer, buying 75 per cent of all exports.
Đặng Phúc Nguyên, general secretary of the association, said: "The Chinese market is becoming more and more difficult with authorities there asking for official exports with traceable origin. It is good to force Vietnamese farmers to achieve VietGAP and Global GAP standards.
"Vietnamese agricultural products will [then] meet quality standards and Vietnamese customers will have the chance to get more organic and hygienic products."
China is now a very important market for Vietnamese fruits and vegetables due to advantages like its proximity and size.
But it now accepts only eight fruits and vegetables from Việt Nam and the Ministry of Agricultural and Rural Development is negotiating with Chinese authorities to accept more.
Besides, Việt Nam's potential to export fruits and vegetables to developed nations remains huge due to free trade agreements like the Comprehensive and Progressive Agreement for Tran-Pacific Partnership (CPTPP).
The ministry reported that last year some 105,000 hectares of unfertile rice paddies were converted into fruit orchards or vegetable farms.
As a result, the area under fruits in the country increased by 26,000 hectares and output rose by 300,000 tonnes.
New agricultural production models using modern technology and organic produce enable farmers to earn five times the income they did from rice. — VNS
Source: https://vietnamnews.vn/economy/505091/tet-ends-early-for-fruit-vegetable-exporters.html#IaQFBQg0BDA3urTI.97