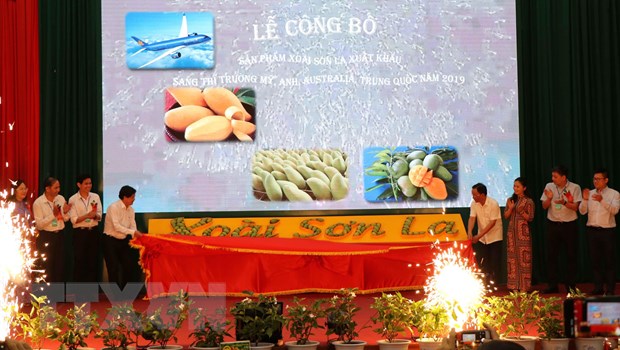 The ceremony announcing the export of Sơn La mangoes to the US, the UK, Australia and China.
SƠN LA Mangoes grown in Yên Châu District, the northern mountain province of Sơn La, began being exported to the US, UK, Australian and Chinese markets on Saturday.
Speaking at a ceremony to announce the export of its speciality to the four key markets, provincial party secretary Hoàng Văn Chất said the event would help promote Sơn La mangoes in other markets around the world.
This is the first time Sơn La mangoes have been exported to the US and UK, two selective markets with strict criteria.
The ceremony was held as part of the Yên Châu Mango Festival 2019.
The province sold 15,000 tonnes of mangoes in the first five months of the year. The export volume was more than 2,500 tonnes.
With about 15,700ha of mango farms, output is expected to reach about 35,500 tonnes this year, of which the volume eligible for export will be more than 7,500 tonnes. These numbers mark significant growth compared to 2018.
Sơn La is the fifth locality in the country following Đồng Tháp, Vĩnh Long, An Giang and Tiền Giang and the first in the north to export mangoes to these high potential markets.
Vietnamese mangoes have been exported to 40 countries and territories worldwide, including Japan, South Korea, Taiwan (China), the EU, Australia, the US, the UK and Canada. It is the sixth fruit of Việt Nam to be exported to the US, after dragon fruit, rambutan, longan, lychee and star apple.
Yên Châu Mango Festival 2019 was held from May 31 to June 2 with booths introducing local agricultural and handicraft products, as well as various activities including a mango harvesting contest. — VNS
Source: http://vietnamnews.vn/economy/520778/box-son-la-mangoes-exported-to-demanding-markets.html#ii2xAxqWtJCLoMIH.99