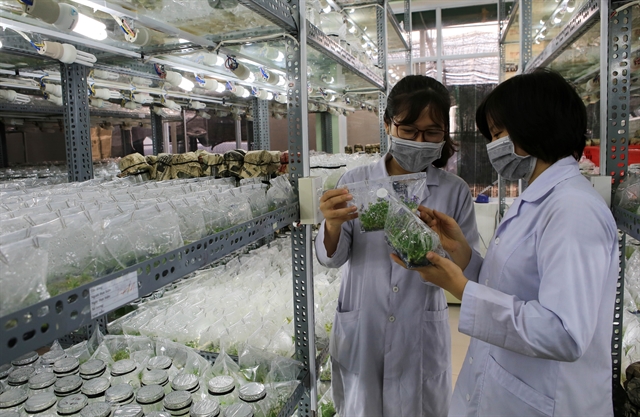 Việt Nam has been moving towards building a sustainable wood processing industry that uses legal materials in accordance with international and Vietnamese law as well as regulations of major export markets like the US, EU and Japan
The statement was released by Deputy Minister of Agriculture and Rural Development Hà Công Tuấn at a conference held by the American Hardwood Export Council and the Việt Nam Timber and Forest Product Association in Hà Nội on Tuesday.
Tuấn said Việt Nam's wood products had been exported to 120 countries and territories, of which the US is its most important market.
In 2018, the country's exports of wood and forest products reached US$9.4 billion, about 42 per cent of which came from the US.
Tuấn said Việt Nam also imported large quantities of timber and wood products from the US. Việt Nam is currently the top destination for US hardwood in Southeast Asia.
In the first five months of this year, the country imported US$138 million of timber and forest products from the US, an increase of 24.9 per cent compared to the same period in 2018.
"The potential to export even more US hardwood to Việt Nam is very big," Tuấn said.
Tuấn said the US product had confirmed its important place in Việt Nam's forest product processing and export industry.
"To make processing wood and forest products a key economic sector, we need co-ordination from the US, especially from suppliers of raw materials," Tuấn. "The Vietnamese wood industry aims to be transparent and apply good production processes to ensure sustainable development.
"Việt Nam's wood export is currently ranked fifth in the world, ranking second in Asia. It can not rest on these achievements but must aspire to develop further, applying science, advanced technology and experience as well as expanding co-operation with the US in this field."
According to Nguyễn Tôn Quyền, Deputy Chairman of the Việt Nam Timber and Forest Product Association, the US has one of the largest forest areas in the world, with output of more than 300 million cu.m per year. US wood is guaranteed to be of traceable, legal origins and good quality. It has competitive prices.
"With these advantages and over 20 commercial timber species, American wood is always the first choice for Vietnamese importers," Quyền said.
Quyền said Việt Nam had signed many free trade agreements, in which it committed to processing only legal timber.
Robert Hanson, Head of the Foreign Agricultural Service of the US Embassy in Việt Nam, said Việt Nam had accounted for 77 per cent of the US's wood exports to Southeast Asia.
Hanson said the Forest Law Enforcement Governance and Trade Voluntary Partnership Agreement (FLEGT-VPA) between Việt Nam and the European Union has taken effect to ensure the legality and sustainability of Vietnamese wood products. Under the agreement, Việt Nam will give priority to importing wood materials from sustainable and legal sources.
Quyền said Việt Nam's forest product processing industry had rapidly and stably developed in recent years, not only meeting domestic demand for wood products but also moving towards sustainable exports.
There are now 5,000 enterprises involved in the production and processing of wood products (excluding households and small businesses), about 1,800 more than there were five years ago.
Việt Nam has halted the exploitation of natural forests for three years and has been pushing forestation. The 3.5 million hectares planted for future exploitation will provide about 35 to 40 million cu.m of timber in the next five to 10 years.
The Vietnamese Government set a target for the forest products sector to reach $11 billion in exports this year. To help, the Government has committed to creating good conditions for businesses, including domestic and foreign invested enterprises.
At the conference, the organisers also explained the classification system for US wood to designers, processors and importers. The conference also served as a chance for Vietnamese and US businesses to explore future co-operation opportunities.
Source: http://vietnamnews.vn/economy/521804/viet-nam-develops-forestry-industry-explores-collaboration-with-us.html#8UEExWDrwfvR0Gpx.99