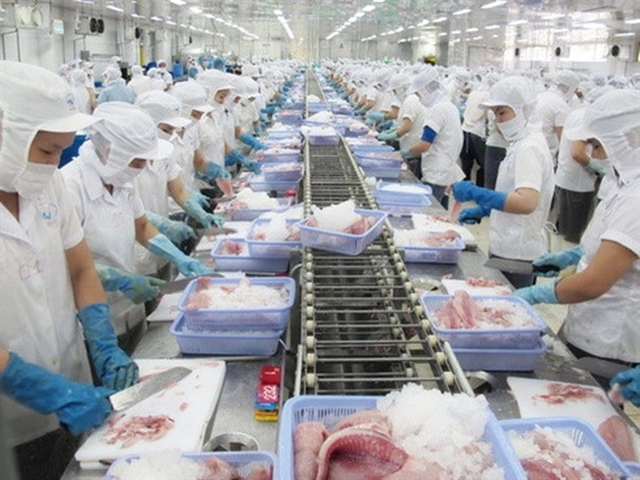 Processing tra fish for exports at a plant in HCM City.
Việt Nam's tra fish (pangasius) exports to China have been skyrocketing since 2015, making it the biggest market for Việt Nam's tra fish by 2017.
Last year shipments to China were worth US$528 million.
Top tra exporters including Vĩnh Hoàn Corporation and Nam Việt Corporation (Navico) have also looked for opportunities to introduce their products to restaurant and supermarket chains and on e-commerce channels such as Alibaba and JD.com in the country of more than 1.3 billion.
Doãn Tới, Navico chairman, said the Chinese market has a big demand for tra fish products which are used at fast food restaurants and hotels and for in-flight meals.
"They know how to process tra fish, which a popular food among common people in Việt Nam, into high-quality foods. They are fond of Vietnamese tra products."
Trương Thị Lệ Khanh, chairwoman of Vĩnh Hoan, said for continued exports to China, Vietnamese businesses must understand that market well.
In the American market, prices of imported tra products could change but slowly, whereas in the Chinese market the prices change very quickly, she said.
Vĩnh Hoàn's tra exports to China are under formal export contracts and so face no risk in the market, she said.
Tới said the US – China trade war had no impact on the profits Vietnamese tra fish make in China.
Even the devaluation of the yuan would have "little impact", he said.
Doãn Chí Thiện, his assistant, explained that fluctuations in the đồng and yuan do not matter much because transactions between Nam Việt and its Chinese partners are carried out in dollars.
According to figures released by the Việt Nam Association of Seafood Exporters and Producers, in April exports of tra fish were worth $143.8 million, including $42.9 million to China.
China remained the biggest importer followed by the European Union, ASEAN member countries and the US.
Source: http://vietnamnews.vn/economy/520699/tra-fish-exports-to-china-on-the-rise.html#WI9wf0brstKjf0I7.99