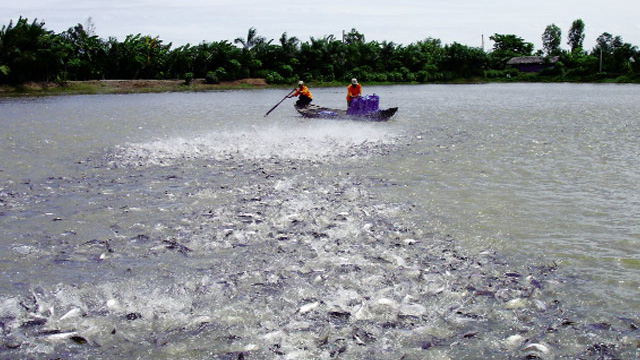 A tra fish farm in Đồng Tháp Province. Vietnamese seafood firms have begun to capitalise on opportunities brought about by the CPTPP, boosting export to member countries.
Việt Nam's seafood exports to the other 10 members of the Comprehensive and Progressive Agreement for Trans-Pacific Partnership (CPTPP) have increased sharply since the agreement took effect earlier this year, according to the Ministry of Agriculture and Rural Development.
According to the ministry's Agro Processing and Market Development Authority, they grew at nearly 15 per cent year-on-year to US$502 million in the first four months.
Overall exports were US$2.5 billion, an increase of 2.4 per cent.
Export growth slowed down in the case of many markets.
But in the case of CPTPP members, exports to Mexico increased by 35.6 per cent, to Malaysia by nearly 22 per cent and to Canada by nearly 14 per cent.
Japan, another member, remained the top importer of Vietnamese seafood.
Exports of tra fish and shrimp to Japan were worth $8.58 million and $121.7 million in the first three months, a year-on-year increase of 60.37 per cent and 1.4 per cent, respectively.
The CPTPP's reduction or elimination of many tariff lines on seafood has helped boost their exports to member countries, according to seafood firms.
Canada is the sixth biggest market for Vietnamese shrimp, accounting for almost 5 per cent of exports.
According to the Việt Nam Association of Seafood Exporters and Producers, the CPTPP will give shrimp exporters an advantage in the Canadian market over rivals like India, Thailand and Indonesia, who are not members of the treaty.
To capitalise on the opportunities brought by the trade deal, many seafood firms have expanded their facilities, purchased modern machinery and equipment and set up raw material-production areas to enable production that meets market requirements.
Trần Văn Lĩnh, chairman of the Thuận Phước Seafoods and Trading Corporation in Đà Nẵng, said his company planned to invest in processing plants to expand production and exports to CPTPP markets, especially Japan and South Korea, which have high demand for fisheries products.
Lê Văn Quang, chairman of Minh Phú Seafood Group Corporation, said his company too plans to invest in expanding production to achieve its target of growing exports by 15 per cent this year.
China tax exemption
China has exempted tariffs on 33 kinds of Vietnamese seafood exports, the Việt Nam Association of Seafood Exporters and Producers (VASEP) has said.
The products include lobster, tiger prawn, sea shrimp, cod, clams, frozen tra and basa fish, round scads, tuna and octopus.
More than 150 Vietnamese enterprises export seafood products to China, including about 45 tra and basa enterprises and nearly 50 shrimp exporting enterprises, among other seafood enterprises, according to VASEP.
With China easing its import policy, Việt Nam is expected to enhance its exports to the world's most populous market. China is considered one of the most important markets for Vietnamese seafood, with average export value from Việt Nam to China reaching over US$1 billion per year.
In 2017, Vietnamese seafood export value to China increased nearly 50 per cent year-on-year to $1.3 billion, according to the association.
However, the export value fell slightly by 5 per cent year-on-year in 2018 to $1.2 billion. It also fell by 5 per cent in the first quarter of the year, to $239 million.
Trương Đình Hòe, VASEP Secretary General, said the fishery industry set a target to export over $1.5 billion seafood products this year to China, where seafood consumption is increasing.
Large provinces in China were concerned about direct trading activities with Vietnamese seafood firms instead of buying via intermediaries. As e-commerce in China was developing quickly, many kinds of Vietnamese seafood had been introduced on e-commerce platforms.
Hòe said that Việt Nam could reach its target of seafood export value, which would be higher than the $1.2 billion recorded last year.
Meanwhile, besides businesses' efforts to ensure quality standards, the State must strictly control cross-border export activities of seafood products to China to ensure fair competition for Vietnamese seafood businesses, he said. — VNS
Source: http://vietnamnews.vn/economy/520477/viet-nam-seafood-exports-to-cptpp-member-countries-up-15-per-cent.html#ZfGtEqUGAkgyTPvW.99